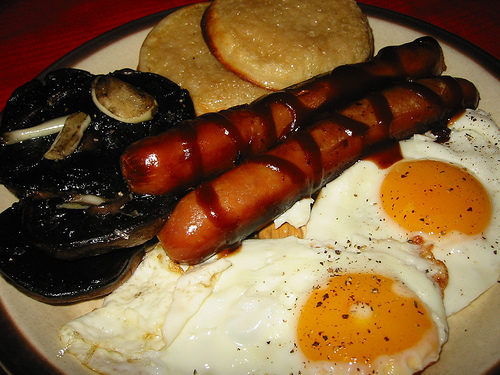 I used to try to cheat breakfast. Fueled by plenty of caffeine I would try to make it to lunch. The theory was that if I was trying to lose weight, if I could just make it to lunch, I would have saved all the calories for future use. The reality was that my low blood sugar would cause a throbbing headache, which would lower my productivity and my grouchiness would threaten everyone who came into contact with me until lunchtime.
When I began my HealthJag I came across some interesting research by the Mayo Clinic that made me rethink my strategy. Their research showed that skipping breakfast generally results in an increase in total daily caloric intake, a higher fat diet, and weight gain. All of the causes of this are not exactly clear, but I am a guy who likes to play the percentages. If eating breakfast can make me lose weight faster, eat a healthier diet, AND feel better until lunch, it might be worth a try. So I now try to eat a healthy breakfast each day. Does it work? All I know is that when I was trying to cheat breakfast I got to my highest weight ever, and when I stopped cheating breakfast I got to my lowest weight since college. So for me it seems to work.
Starting tomorrow, a new daily post will be featured, "What You Should Have Had for Breakfast This Morning!".  It will be a healthy breakfast recipe that I have tried and enjoy.  But the picture accompanying this post is definitely NOT what you should be eating for breakfast this morning!